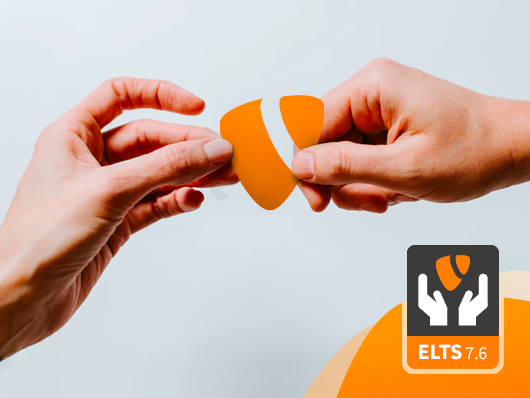 Product number:
ELTS76.AGENCY.3-3
Product information "ELTS 7.6"
So your website is still delivering value for your users, but the TYPO3 roadmap shows free community support for your TYPO3 version is running out? You may want to put off upgrading to give yourself more time to prepare, because your organization has a longer planning cycle, or because you'd rather add features to your existing website. Whatever your motivation: when community support ends, ELTS can offer three more years of security, compliance, and compatibility.
Support guaranteed
Extended Long Term Support (ELTS) is currently available for TYPO3 CMS version 7.6. Since free community support for these versions has expired, no free updates will be offered in future. You should either upgrade to a supported version, or order ELTS.
Eliminate legal exposure: EU (and other) law requires running supported software
Security protection against new security vulnerabilities
Guaranteed browser compatibility for modern browsers
Runtime
The total runtime of an ELTS version has a fixed time frame of 3 years. The start date of an ELTS version depends on the end date of an LTS version and thus offers a seamless transition of support.
Each bookable ELTS period has a fixed runtime of one year. They can also be combined for 2 years (10% discount) and 3 years (15% discount).
Instances
An instance can be a set of 3+n TYPO3 installations (Live, Live Failover, Staging, Development per Developer) as long as the scope of the installation remains the same. An instance can also be a single TYPO3 installation running multiple websites for multiple clients.
Here are some examples:
You have a team of 12 developers all working on a single project that runs within a single TYPO3 installation = 1 instance.
You have a project with a development server, a staging server and 200 frontend servers all serving the same content = 1 instance.
You have a single TYPO3 installation running 12 microsites for 12 clients = 1 instance.
You have 12 microsites for one client and every microsite is running on its own TYPO3 installation = 12 instances.
You have 5 clients and run 3 different websites per client, each with their own TYPO3 installations = 15 instances.
In case you are unsure about your setup, contact us and we will help you decide what best fits your case.