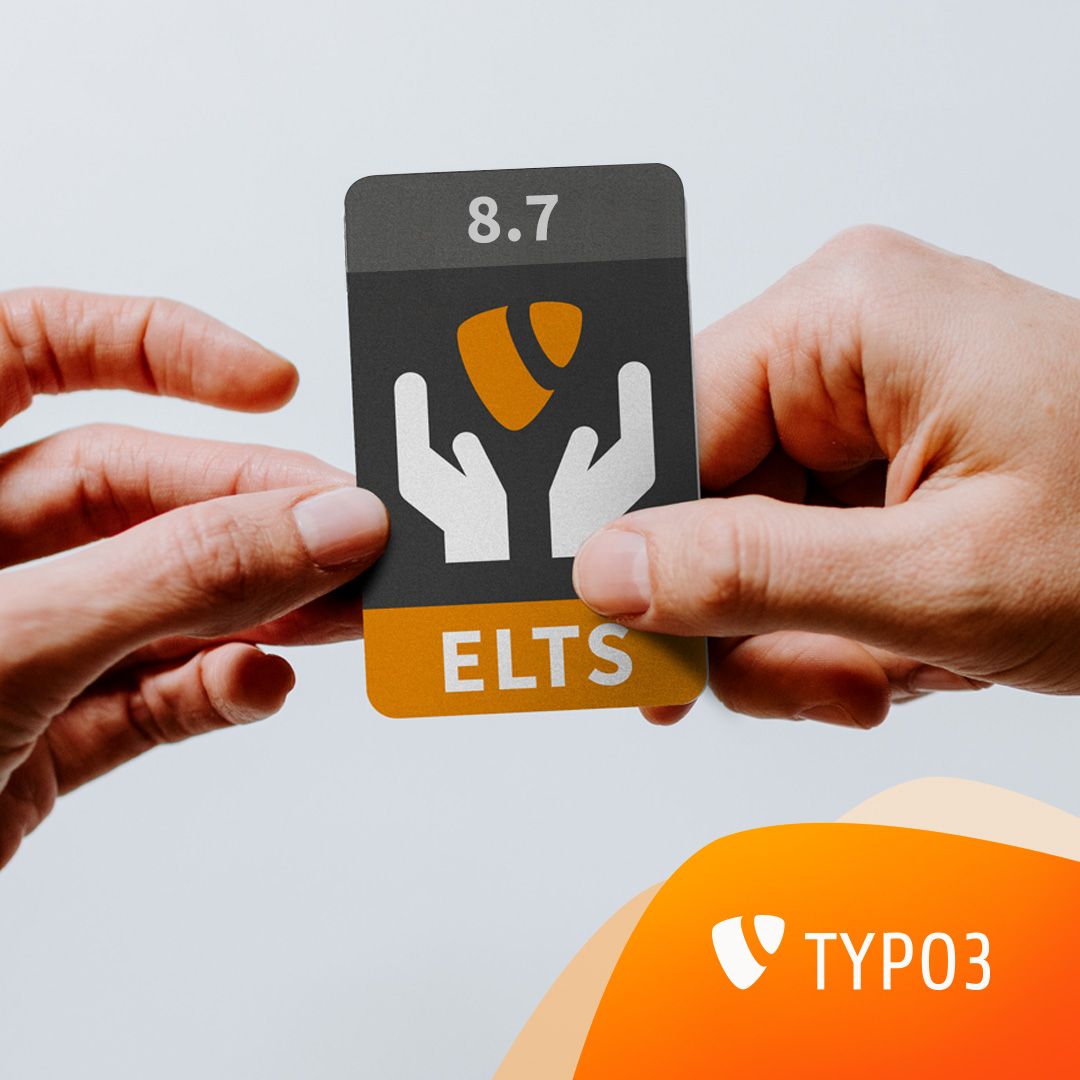 Product information "Extended Long Term Support 8.7"
Scope
Our Extended Long Term Support, or ELTS for short, provides you access to security and compatibility updates for TYPO3.
In addition, ELTS gives you more time to prepare:
Your upgrade to a higher TYPO3 version
To add new features to your existing web application
Time to upgrade your custom extension(s), which would otherwise go out of support
Furthermore, ELTS is fully compliant with current IT law and is fully GDPR compliant. In short, ELTS offers you up to three more years of security, compliance, and compatibility.

ELTS 8.7 has a total runtime of three years - April 1, 2020, to March 31, 2023.
The total runtime separates into three fixed terms that you can purchase individually:
April 1, 2020, to March 31, 2021 (expired)
April 1, 2021, to March 31, 2022
April 1, 2022, to March 31, 2023
System requirements
Web Server:
Apache HTTPd

Nginx

Microsoft IIS
Database:
MariaDB >= 10.0.0 <= 10.1.45
Microsoft SQL Server
MySQL >= 5.0 <= 5.7
PostgreSQL
PHP:
Important:
ELTS only officially supports the PHP versions listed here. Please consider the end of life date for the respective PHP version.
You can find more detailed information on the topic in our
ELTS FAQ
.
Our official discounts of 10% for two-year plans and 15% for three-year plans automatically factor into the price shown when selecting a runtime.
Visit
our website
to learn more about Extended Long Term Support. Read about all of its benefits and features, and keep up-to-date with upcoming versions.
Do you have any questions about ELTS? Are you wondering "How to request an ELTS Plan offer?", "When are ELTS plans activated?", "How to add an instance to an ELTS plan?" or other common questions? We provide an extensive FAQ section for ELTS covering all relevant topics like Plans, Instances, Management, Download, and System Requirements. You can access the
ELTS FAQ
here.
Just in case your question isn't answered in the
ELTS FAQ
, please contact us and let us know.
You can reach us Monday to Friday from 9:00 a.m. to 5:00 p.m. (CET) at the following phone number: +49 (0)211 20 54 36 0.

You can also send us an email at
info@typo3.com
.

(If you're already an active ELTS member and would like to report a specific issue, please use the
ELTS helpdesk
.)


Login
Login
Log in now with your My TYPO3 account.
Product number:
ELTS87.SINGLE.3-3